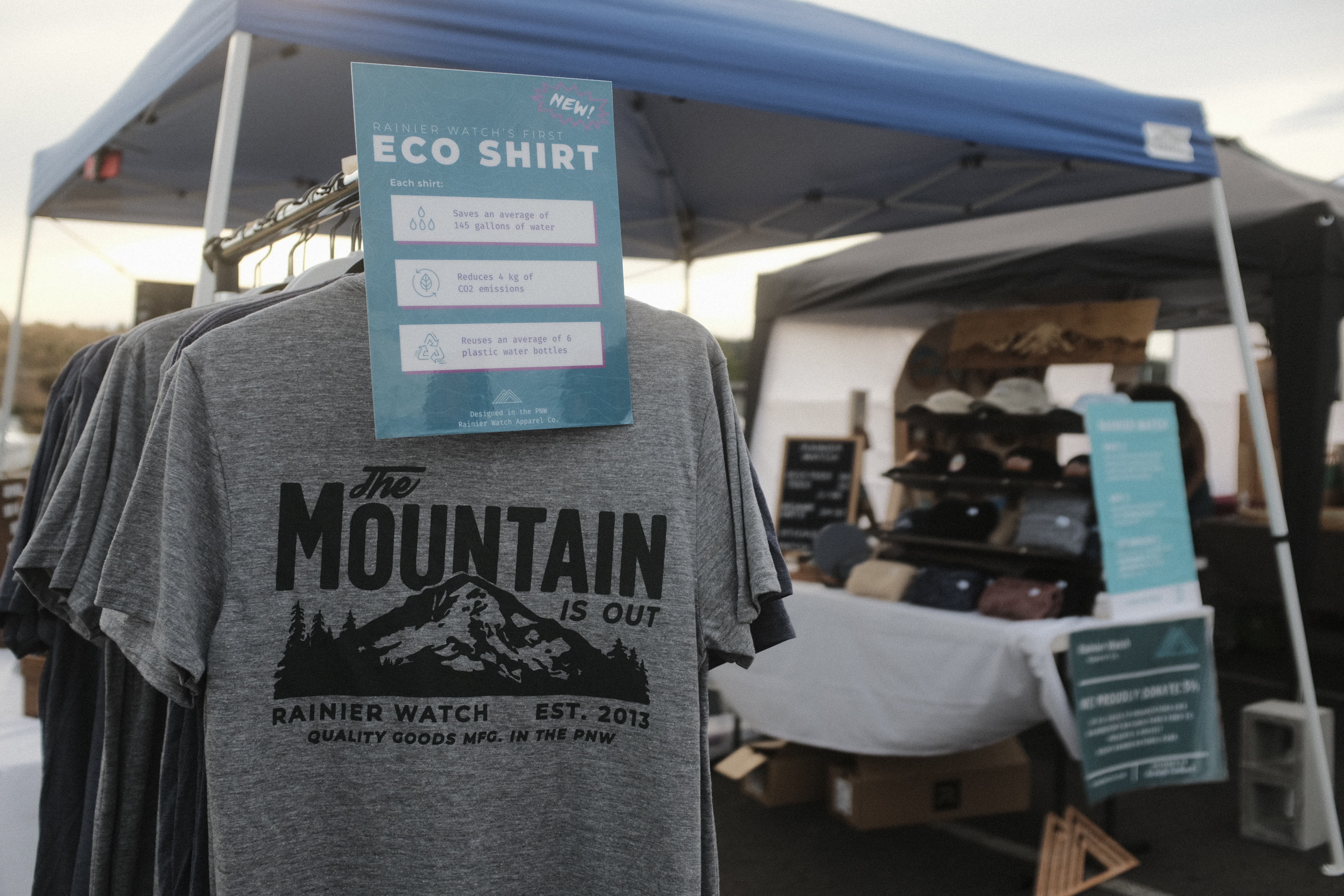 September 28th 2021
6 min read
RW's Most Earth Friendly Shirts Ever!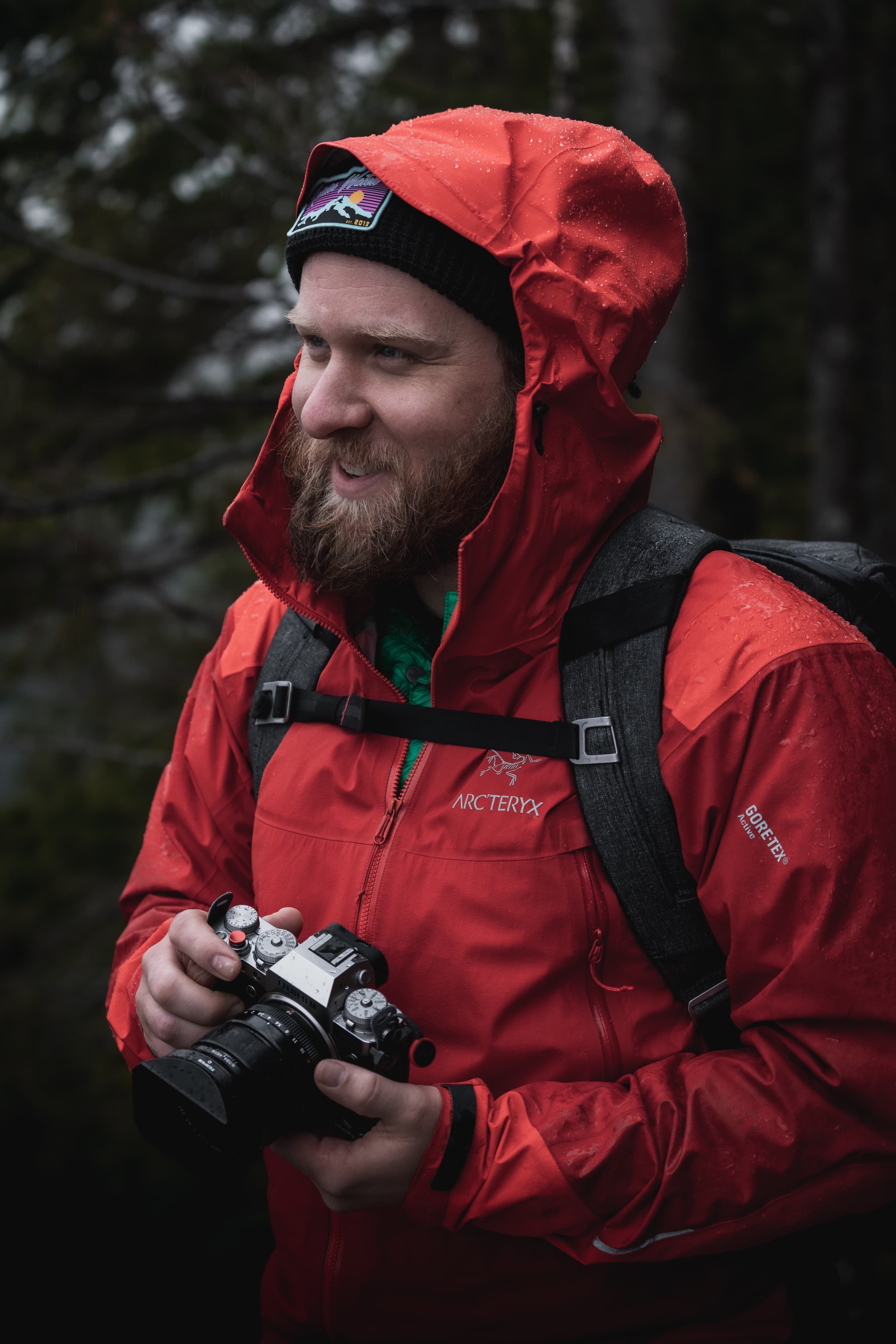 By: David (RW Founder)
instagram
At Rainier Watch, we make quality goods inspired by mountains. Just recently, we launched shirts made from recycled plastics on the website. We're really excited about them around here, so I'd like to take a moment to give them a proper introduction.
Quality over quantity has always been important to me. Even in the early days of launching the RW Shop, I spent hours researching and ended up ordering a half dozen shirt samples. Finally, I decided to go with Bella Canvas shirts. They were one of the more expensive options, but they were several quality notches above other shirts. And after getting samples of a half dozen shirts, they were the most comfy. In addition to that, they are produced in ethical, sweatshop-free environments and made to last for years. While Bella Canvas shirts are top notch, I'm a perfectionist and had to keep looking for something even better for the environment. I found them with shirts from Allmade. They make super soft, sustainable shirts that are made from recycled plastics, like water bottles! Not only that, but they use 100% organic cotton that's completely produced in the US. And something even more that's really important to me, Allmade is produced ethically in Haiti where workers are paid living wages.
Even with my small first order placed with them, they used over 44 pounds of recycled plastics. Woohooo! They also saved over 15,000 gallons of water and produced way less CO2 during their processing. Check out their sweet calculator to check out the eco impact!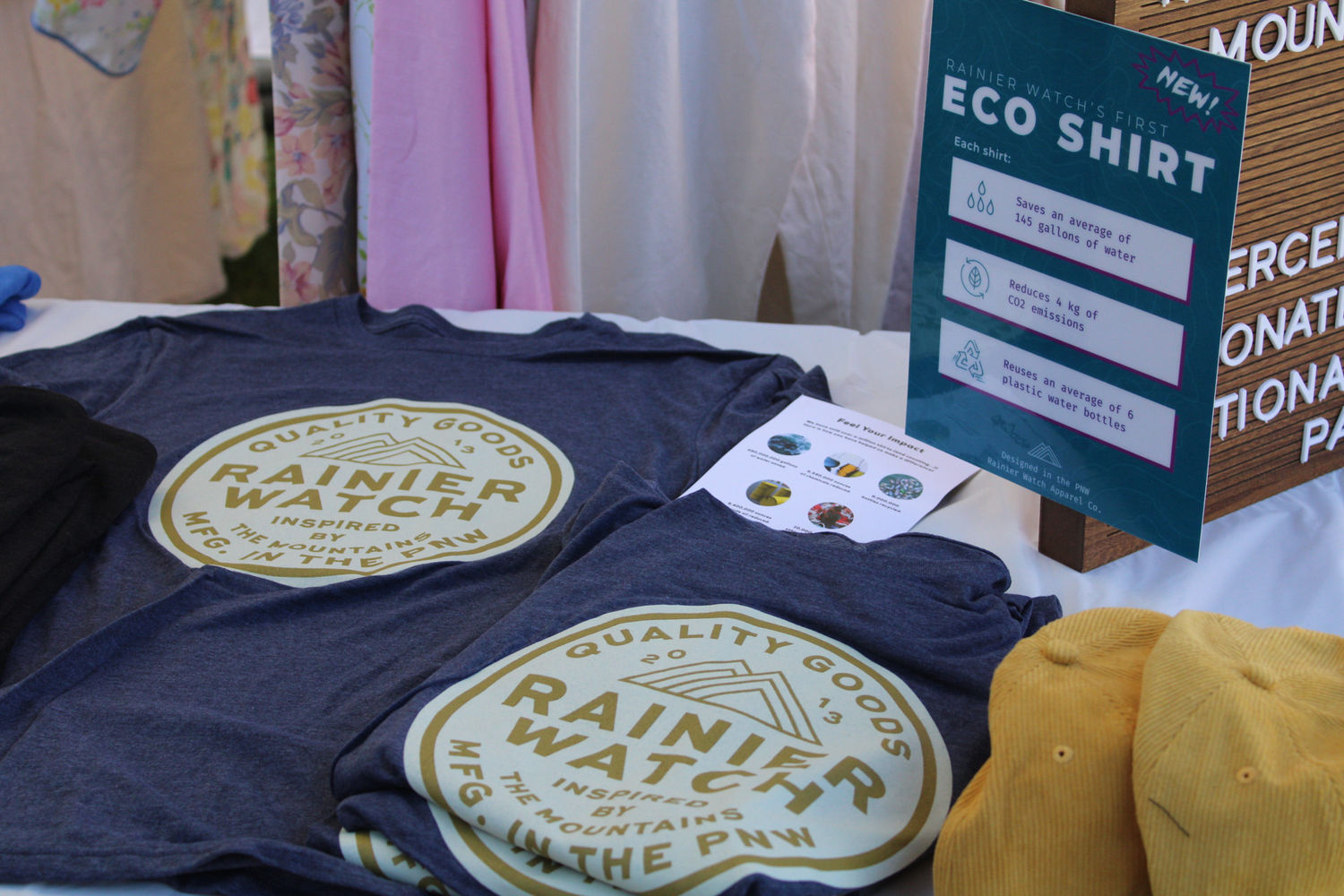 Eco-Tees in the Wild
Seriously, these shirts make such a positive impact on the world that I couldn't wait to drop some custom designs on them. I worked with the super talented Seattle based designer, Steve Karlson, for the project. He has done amazing work in the past for a bunch of small businesses in the area and a few larger companies, like Filson. I was really fortunate to bring him onboard for these shirts because they came out great!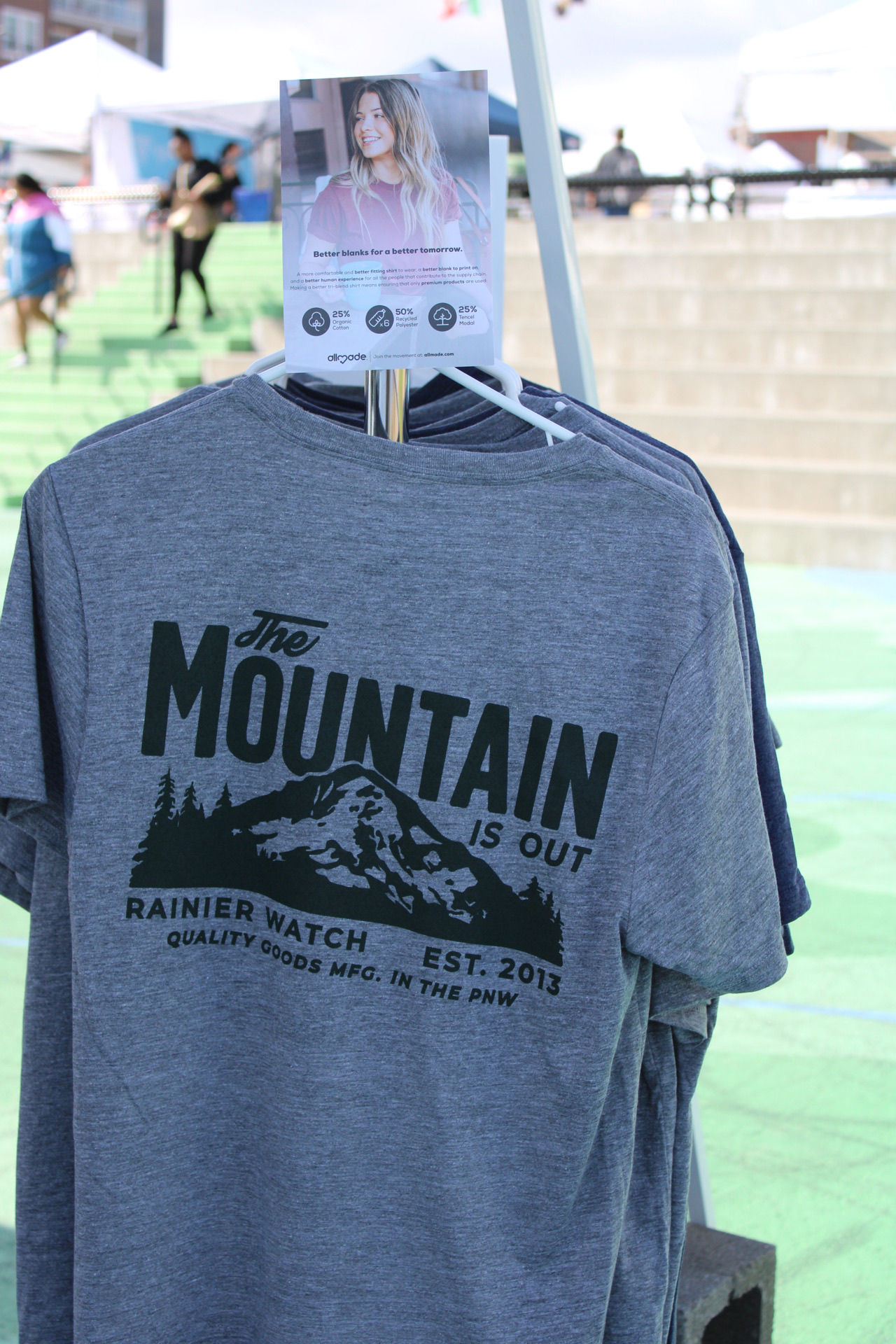 The Mountain is Out design is inspired by one of shirts I made back in 2018. It was a part of the official Rainier Watch shop and quickly became a top seller. Steve has done an awesome job updating it for 2021!
The RW Badge logo is loosely inspired by mountaineering benchmarks. This design is my way of proudly showcasing that RW Gear inspired by mountains. Of course, Mount Tahoma (Rainier) and all mountains have always been a part of my vision. To read more about that, check out the Rainier Watch Story.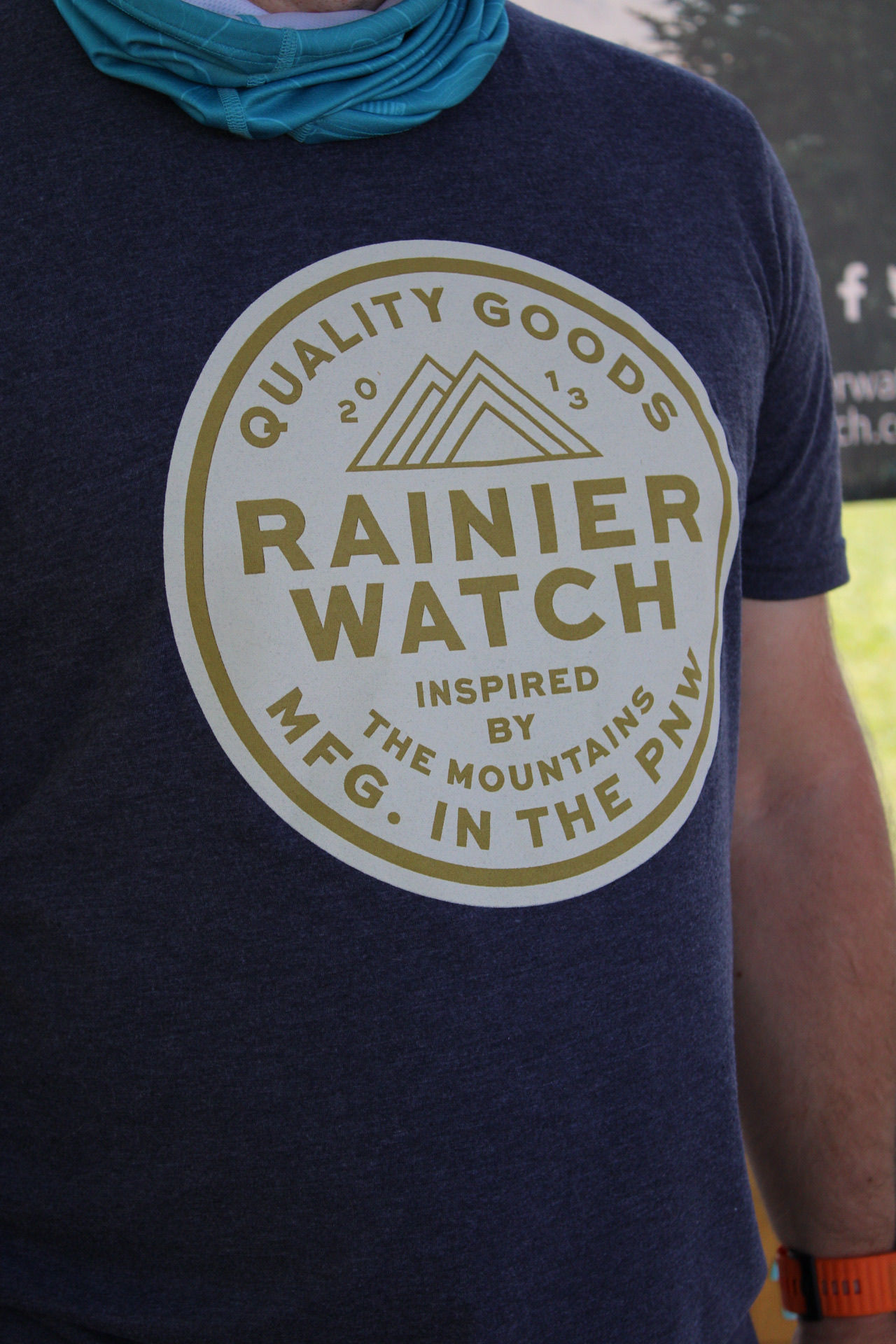 I've been selling these at the most recently RW Pop Ups around the Seattle area over the summer and people have totally loved them! Here's what some people so far:
"I love my shirt. Can't wait to wear it on the trails."
"Perfect summertime shirt - thin and light but durable and beautifully crafted."
"Love how lightweight and breathable this shirt is!"
Why Eco Tees Matter
Custom t-shirts are a commonly used by companies, events, and products, around the world. The industry was valued at more than $3.6 billion in 2020 and over two billion t-shirts are consumed every year. Pretty nuts huh, who knew?! In addition to being produced at a massive rate, they are also being disposed at one. That is because most of these shirts are made with low quality fabrics and materials. Their production can also have some pretty heavy environmental and social impacts.
The average t-shirt uses 700 gallons of water and more than a third of its weight in chemicals and pesticides.

The dying process consumes large amounts of crude oil and coal while also producing toxic emissions and wastewater.

Many t-shirts are made in sweatshop conditions, with workers putting in excruciatingly long hours and are paid less than living wages; sometimes as little as $3 a day.
This mass production of cheap, disposable clothing is known as "fast fashion." Imagine getting a free promotional t-shirt at a concert. You will most likely wear it once or twice before it ultimately ends up in the depths of your closet. Sooner or later, you donate it or hopefully repurpose it into something new. Now, when you apply the numbers I mentioned earlier to this same scenario, things get put into perspective with how damaging fast fashion really can be. I have always searched out more eco-friendly options for RW gear because I have never been a fan of fast fashion. Rainier Watch stands for protecting our environment, and that includes avoiding low quality products. Finding a company like Allmade is something I am truly excited about. They are mindful of their impact and working to make their industry better for the world.
Check out this awesome video to see how plastic bottles turn into shirt materials!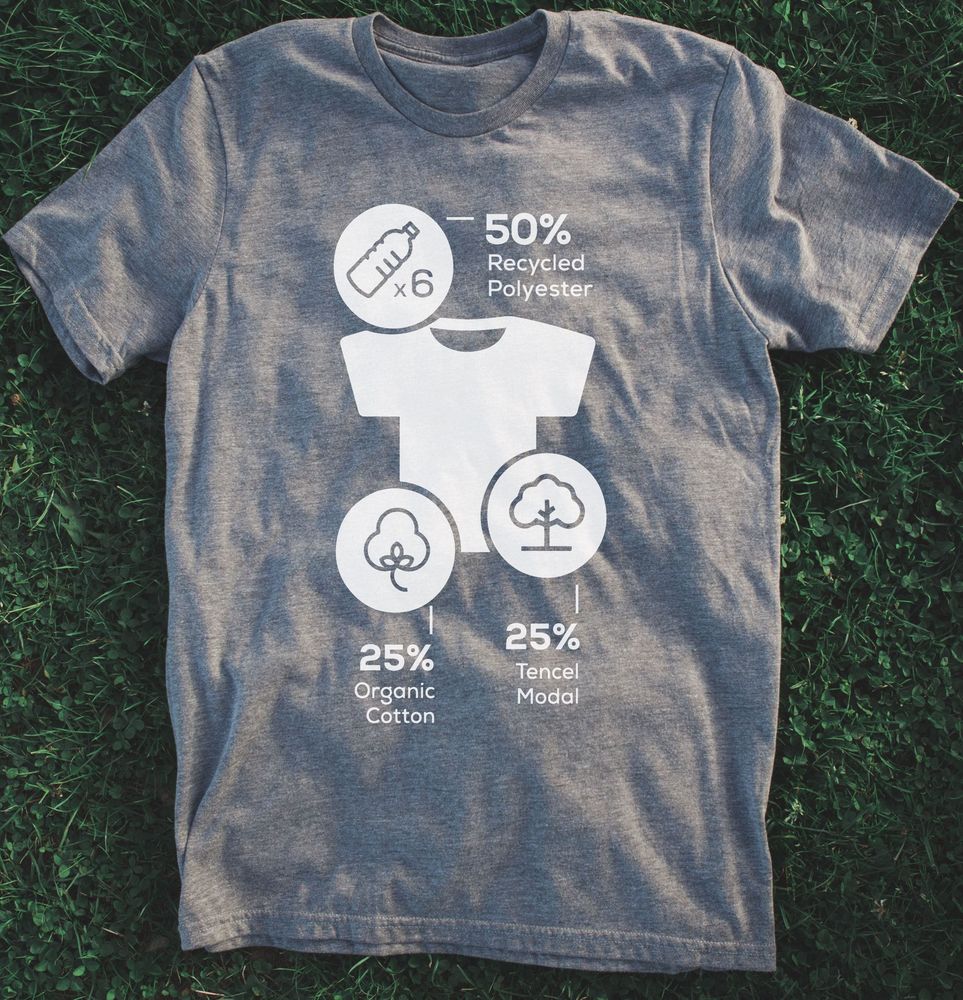 Allmade's approach to Recycling Plastic Water Bottles and Environmental Responsibility
Allmade: Can you really change the world with your t-shirt?
I think so! Watch this great video from the Allmade team:
More About Allmade
All of Allmade's materials are sourced, dyed, and milled in the United States. They have factories in Haiti where their sewing is done. This helps to reduce their carbon footprint as opposed to other manufacturers that ship their materials to far off lands for assembly. Not only is the cotton they use 100% organic, but they also use Repreve polyester, which is made from recycled plastic bottles. In fact, each Allmade shirt prevents up to 6 plastic bottles from ending up in the oceans. They have put a bunch of effort into making their products sustainable for the planet.
Additionally, Allmade pays their workers fair wages that are more than 3x the local standards. They strive to make their factories a meaningful place to work, providing meals and ongoing training to all of their employees. Their workers are able to build balanced lives and care for their loved ones in an area of the world that struggles to keep families together.
Allmade is one of the best when it comes to being a socially responsible and environmentally conscious producer. Not only that, their shirts are built to last without sacrificing comfort or fit. Check out our new Eco Tees below! I can't wait to make more soon, hop on our email newsletter to find out when I launch more.