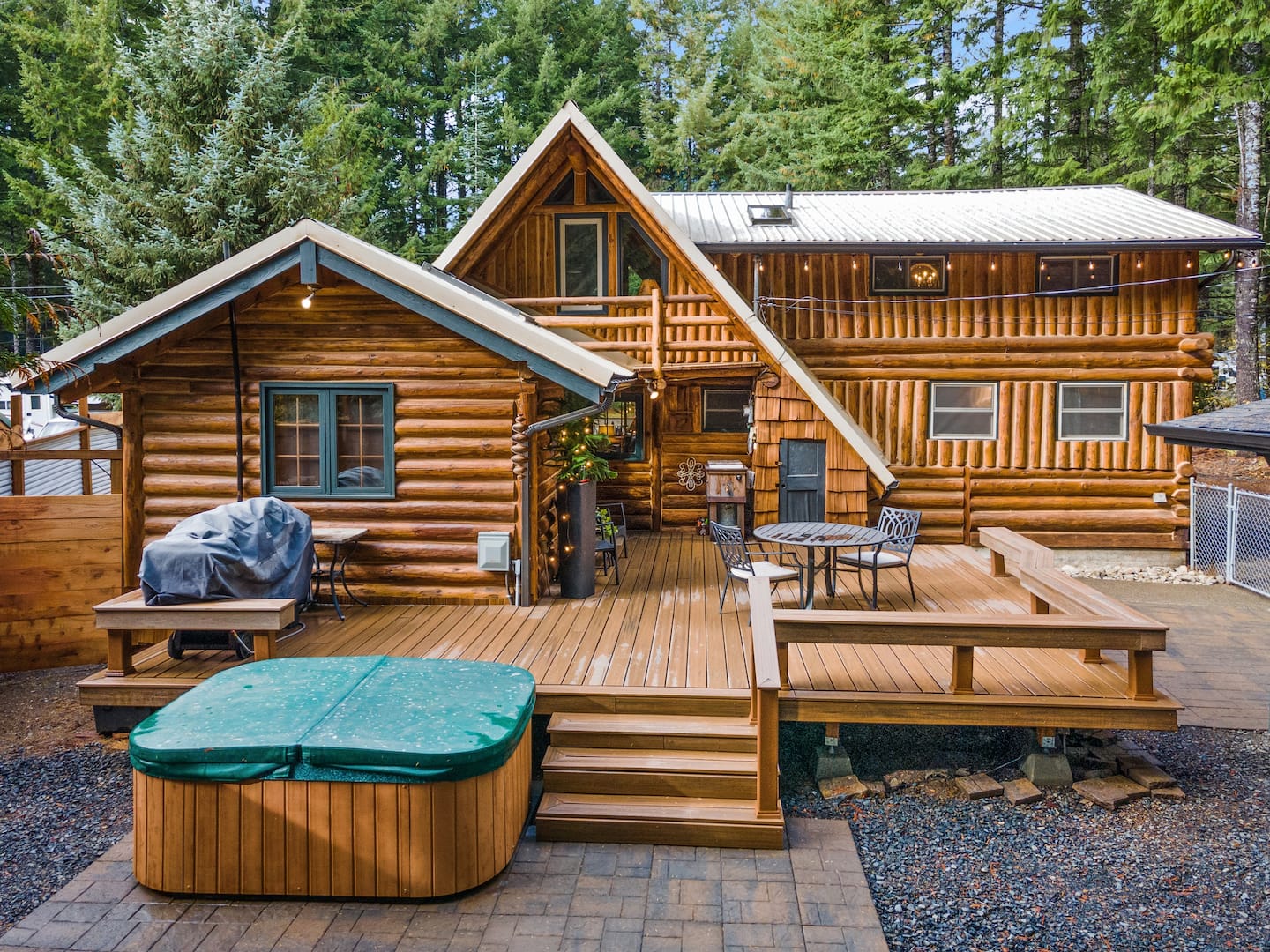 December 5th 2021
7 min read
Cabins Near Mount Rainier National Park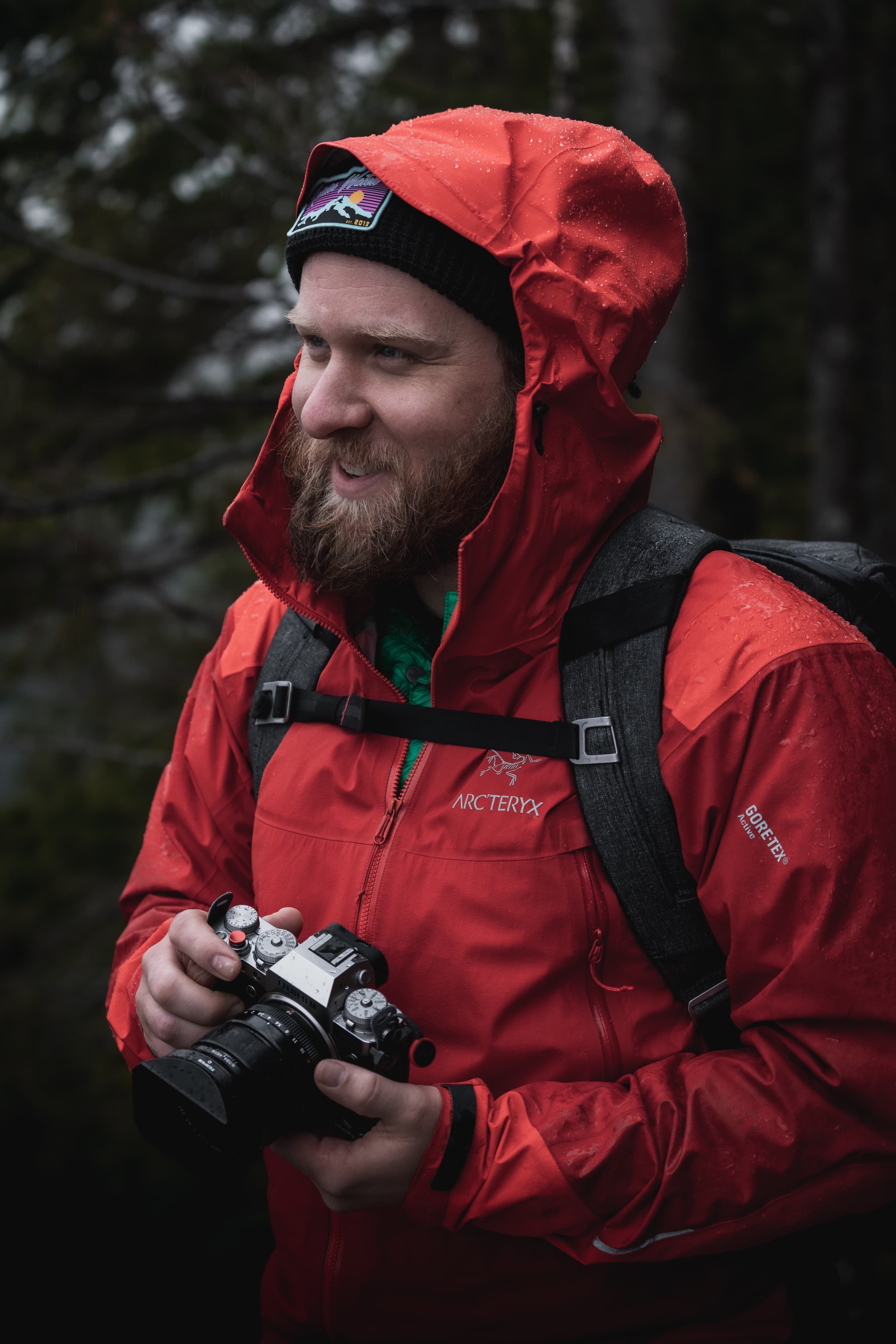 By: David (RW Founder)
instagram
Looking for a PNW Getaway this winter? Well, look no further! I've put together a list of my favorite cabins near Mount Rainier National Park that any mountain lover will enjoy. I have interacted with many of the people running these cabins and have been lucky enough to stay at a few of them too.
The properties on this list are cozy, quaint and have easy access to the park along with other recreational hotspots in the area. If you're looking for a place for rest and relaxation, many of these cabins also come equipped with some great amenities, including my favorite thing ever—hot tubs!
Even if you're not ready to book right now, I've also linked to their Instagram accounts so you can get a regular dose of Cabin Porn (which is a great site, by the way). To even further set the mood, I have put together a Rainier Watch Playlist for your listening pleasure while you look through these awesome cabins.
Each cabin at Millard's was originally built in the 1960s and were both recently renovated to provide modern amenities. They're both amazing and located at the entrances to MRNP! You can find anything that you'll need for a refreshing getaway, like bonfires, hot tubs, and game nights.
The cabins were named after the owner's dog, Millard Fillmore, and are, of course, both pet-friendly! The cabins come with a fully stocked kitchen, cedar soaking hot tub, and TVs with all the standard streaming services.
Here's a breakdown of the difference between to the two:
Millard Cabin:
Loft with 2 full and 1 twin bed AND a private bunkhouse with 1 full and 1 twin bed. Perfect for a family or small group of friends.

Backyard feel for casual hangouts, located in Packwood, WA.
Fillmore's Landing:
Loft with 2 queen beds and a pull-out sofa. Great for a more intimate setting.

More immersed in nature, located 4 miles from the main MRNP entrance.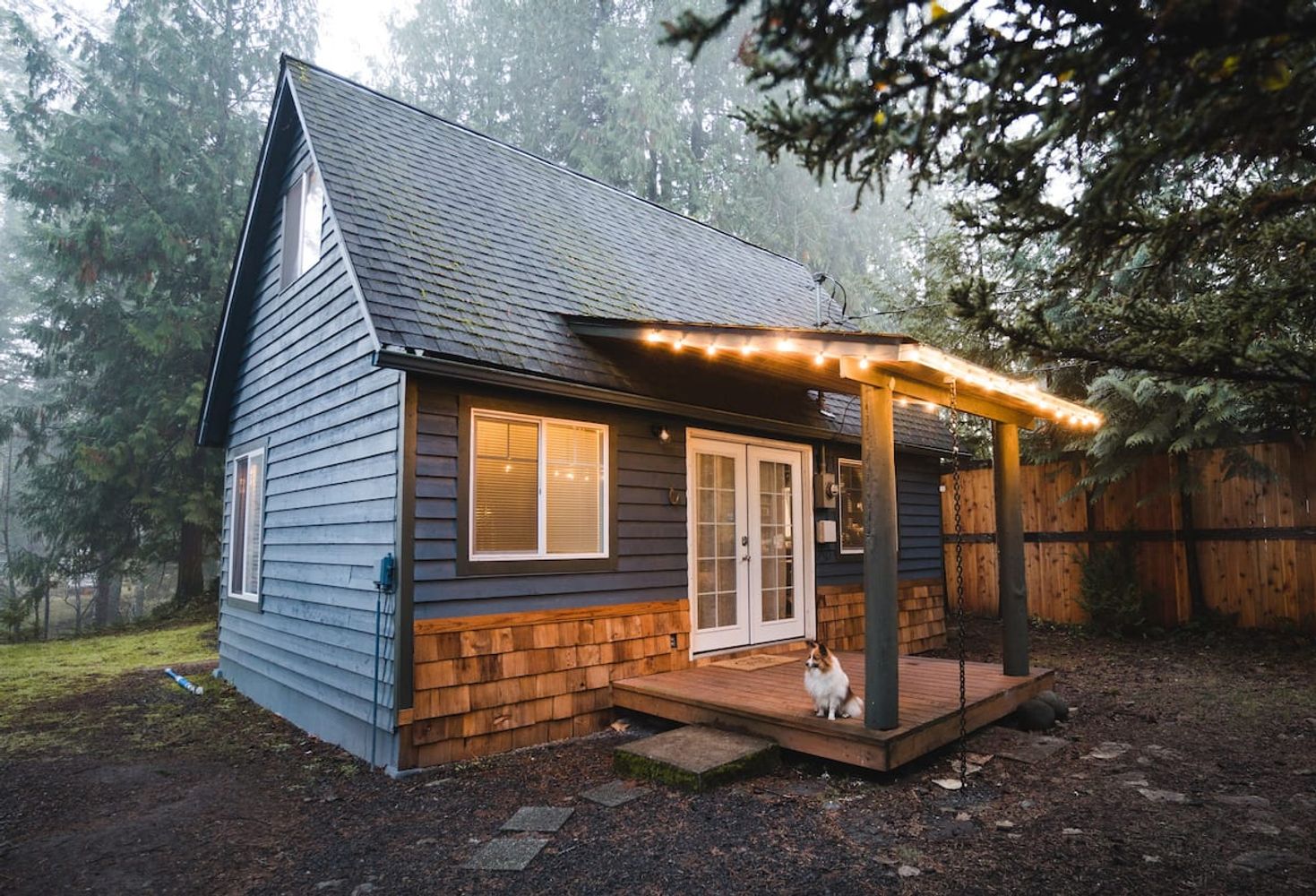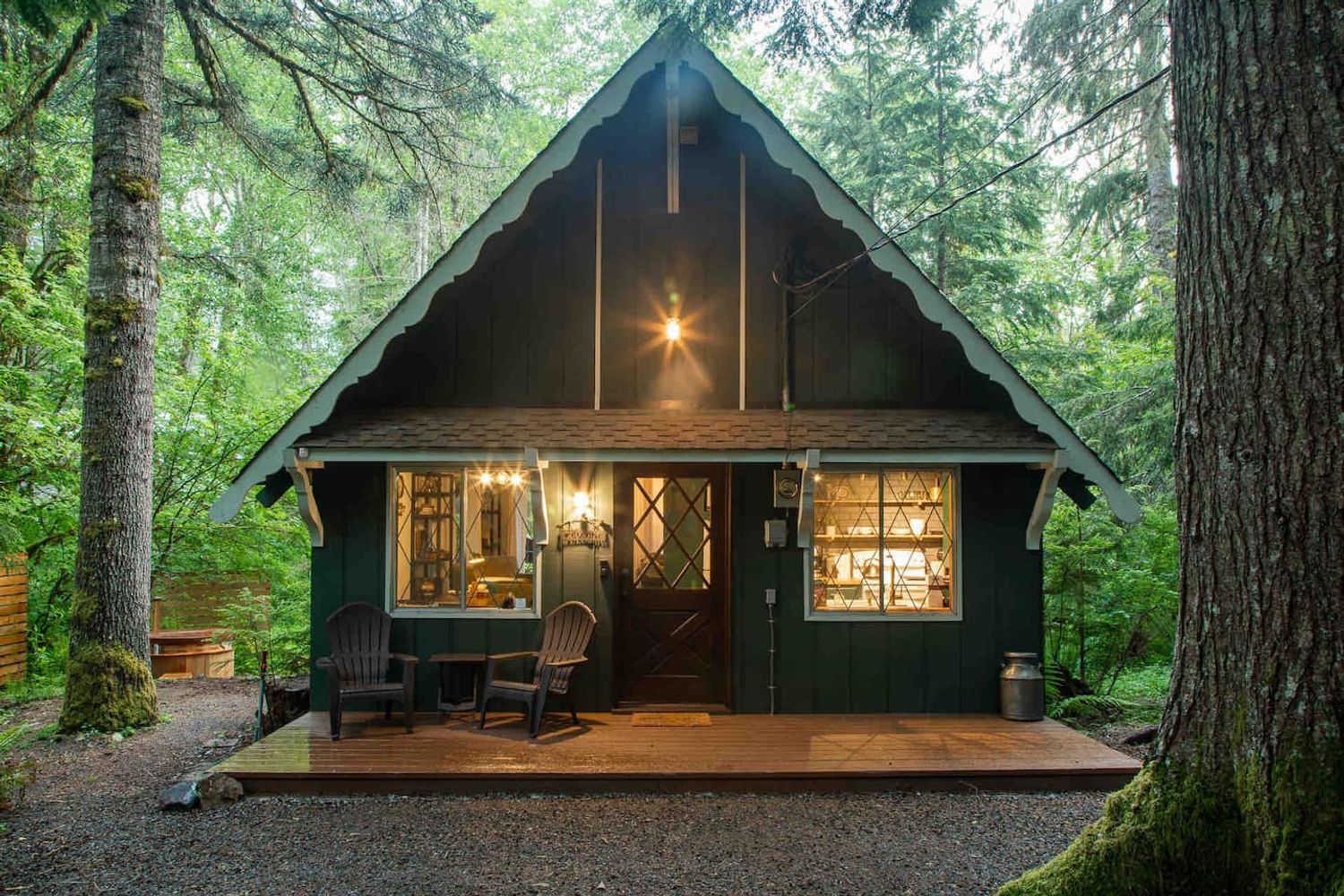 Choose from one of Little Owl's 4 cabins that are all located within minutes of the park, White Pass Ski Area, and the Pacific Crest Trail. Each cabin is beautifully designed with a vintage aesthetic, and come with a cedar hot tub for soaking, grill, WI-FI, and super comfortable memory foam mattresses.
Little Owl Cabin
Sleeps up to 4 people with 2 queen beds and a bunked twin bed.

Right next to the National Forest!

Ohana Hot Springs

Perfectly restored 1930s cabin.

Sleeps up to 4 people with 1 queen and 1 full bed.
Marmot Cabin
Their biggest of their cabins, sleeping up to 5 people with 2 queen beds and 3 singles.

A quintessentially happy cabin in the PNW.
Pine Marten
An A-frame delight with two structures.

Sleeps up to 5 people, with 2 queen and 3 day beds.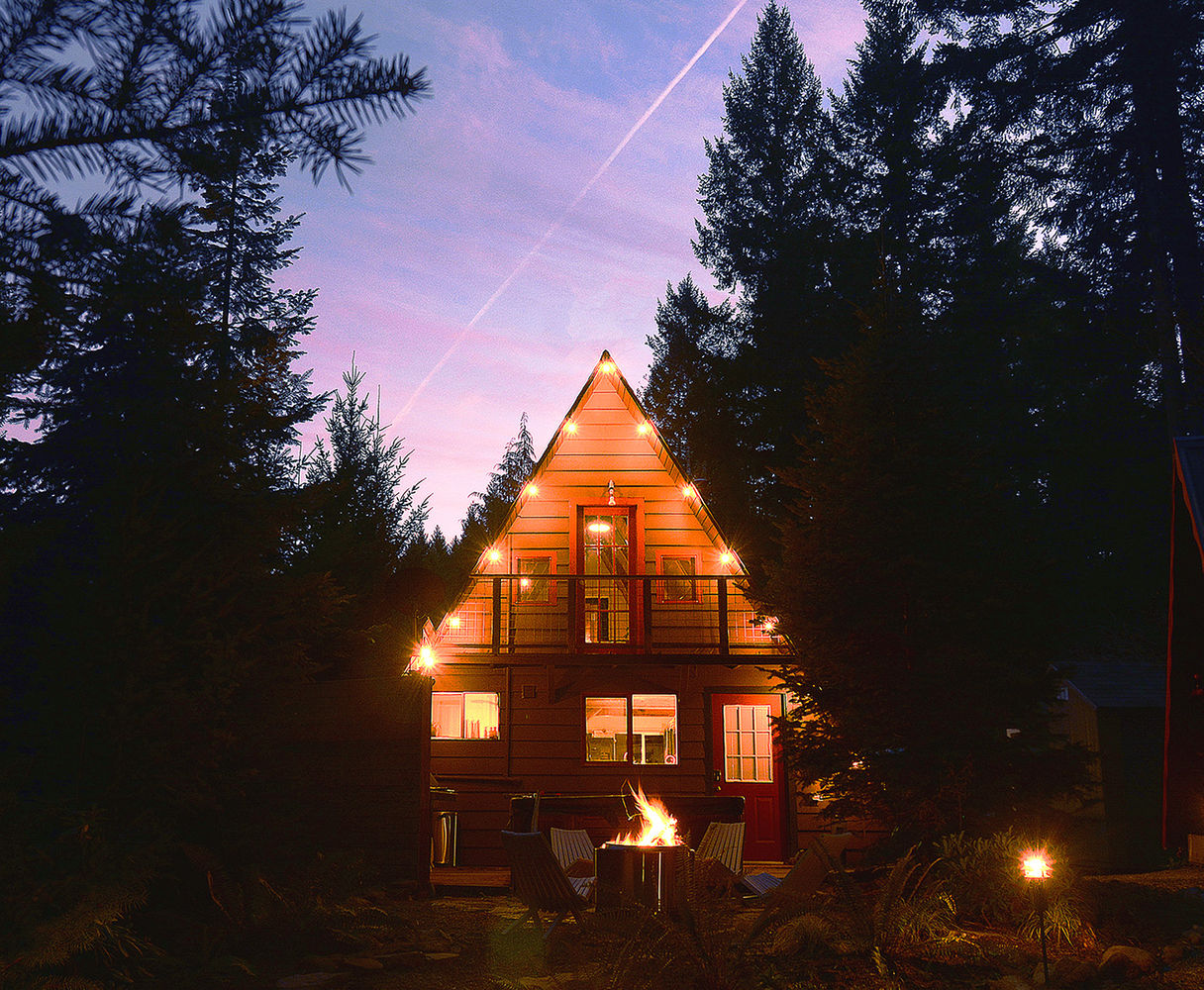 Could the Little Owl Cabin be any more perfect?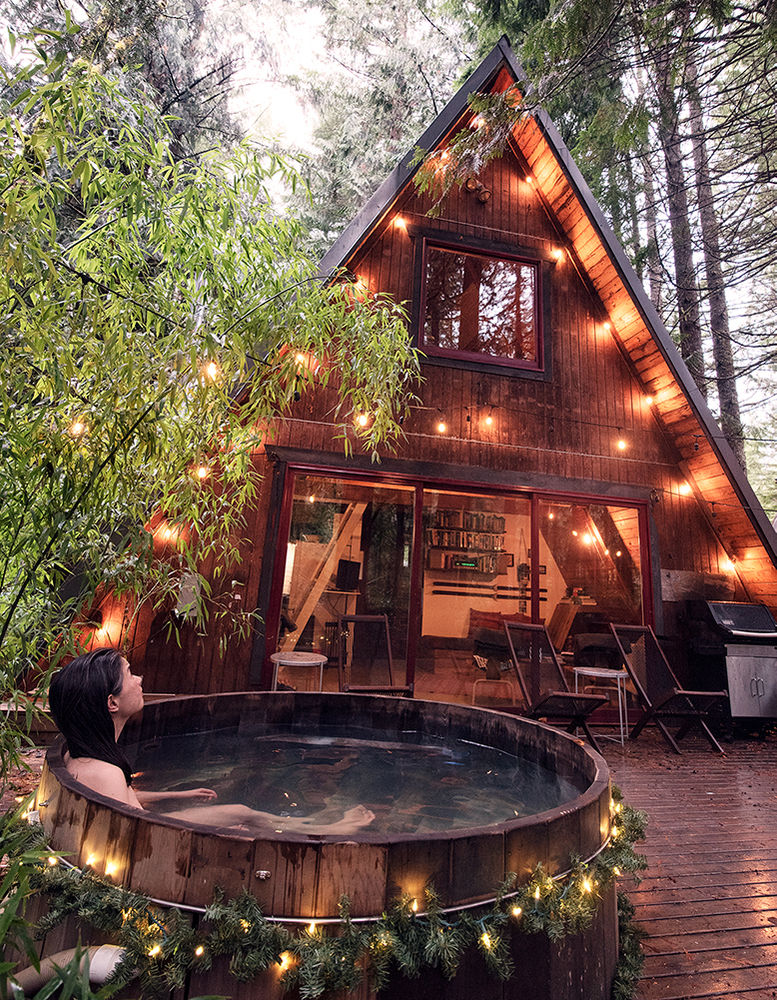 That hot tub in the Pine Marten Cabin is really calling to me.
The location of this cabin couldn't be any more perfect! Nestled within Gifford Pinchot National Forest, it's easily accessible from both Portland and Seattle, close to MRNP entrances, and 30 minutes from White Pass Ski Resort. The A-frame itself has plenty of space to sleep up to 7 people comfortably with 1 king, 2 queen, and one single-sized bed.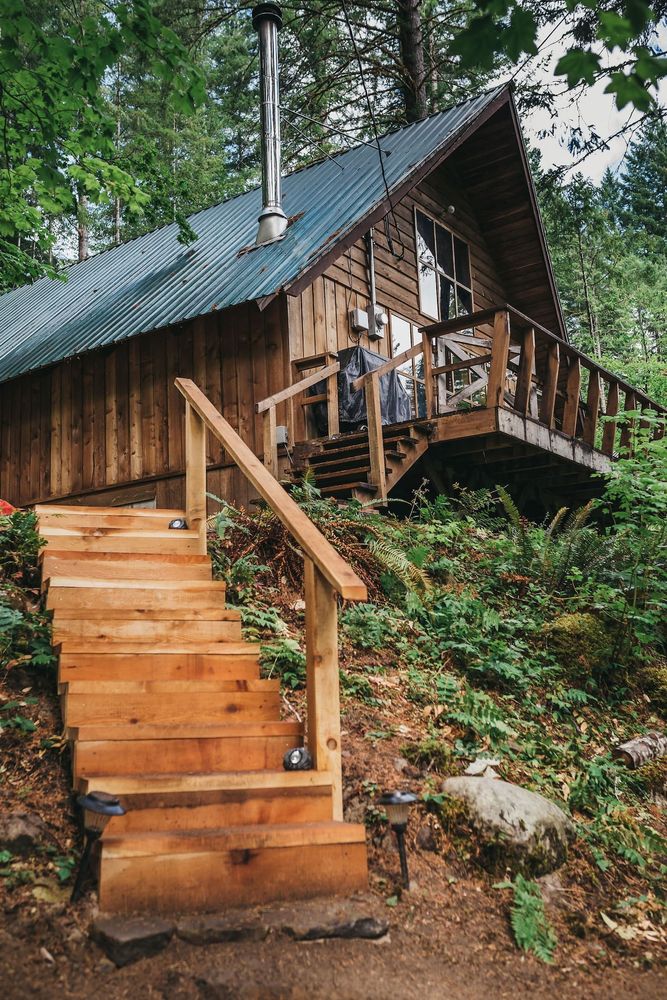 I can smell this photo, and it smells great!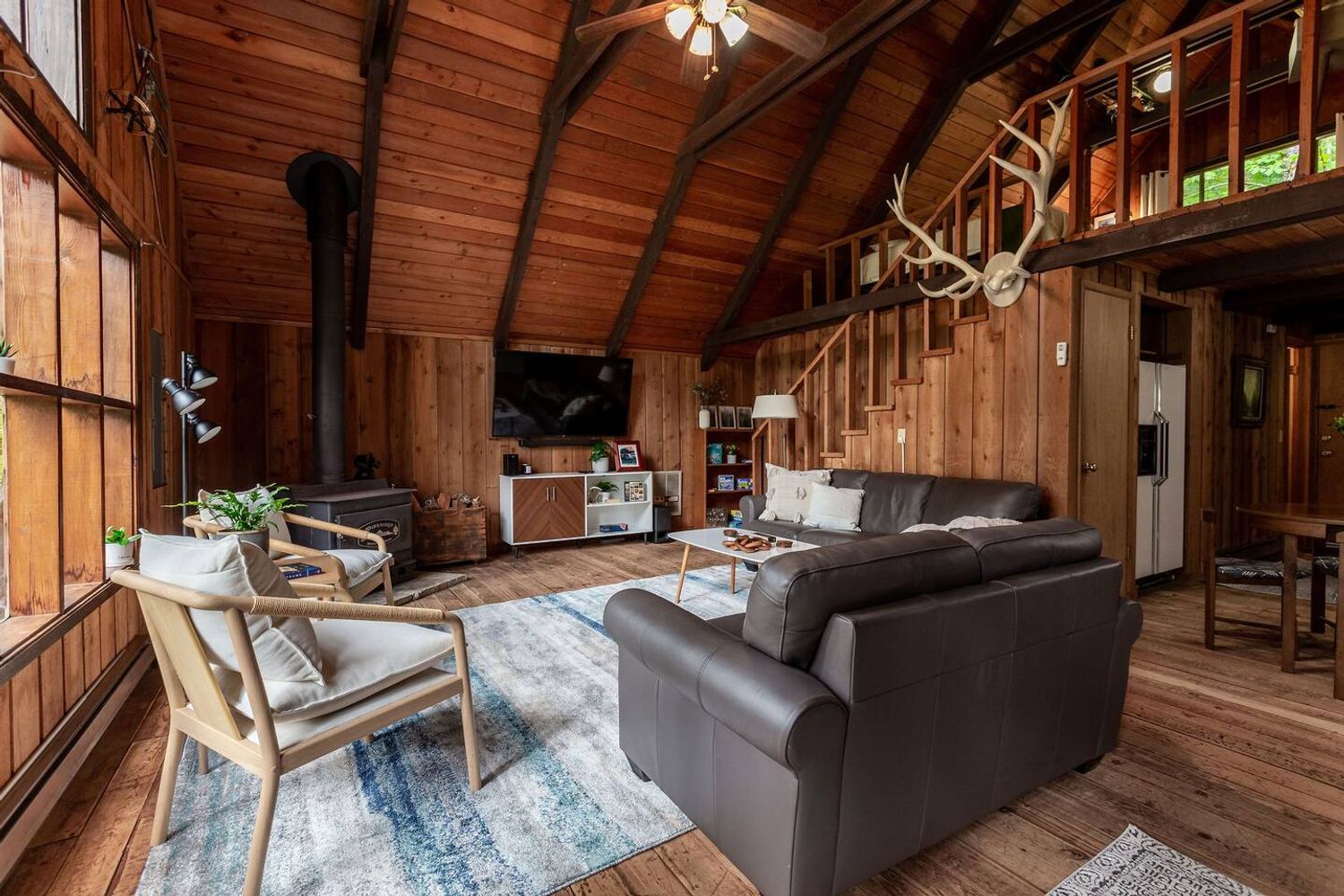 So many classic cabin vibes at Cedar & Pine!
The place on the river differs from the other cabins because, as you've guessed, it is located on the Cowlitz River as opposed to in the forest. It's the largest home on this list, with 3 separate bedrooms that sleep up to 8 people, making it perfect for large gatherings. The large front windows offer expansive views of the water and surrounding valley.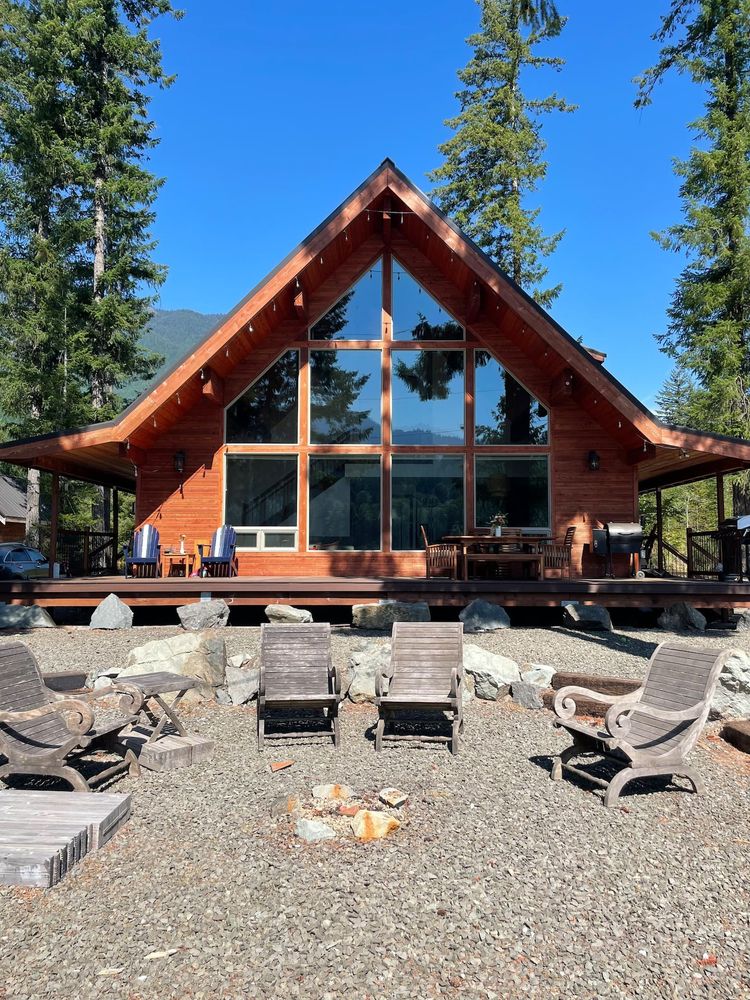 Nothing better than gathering by a fire - Place on the River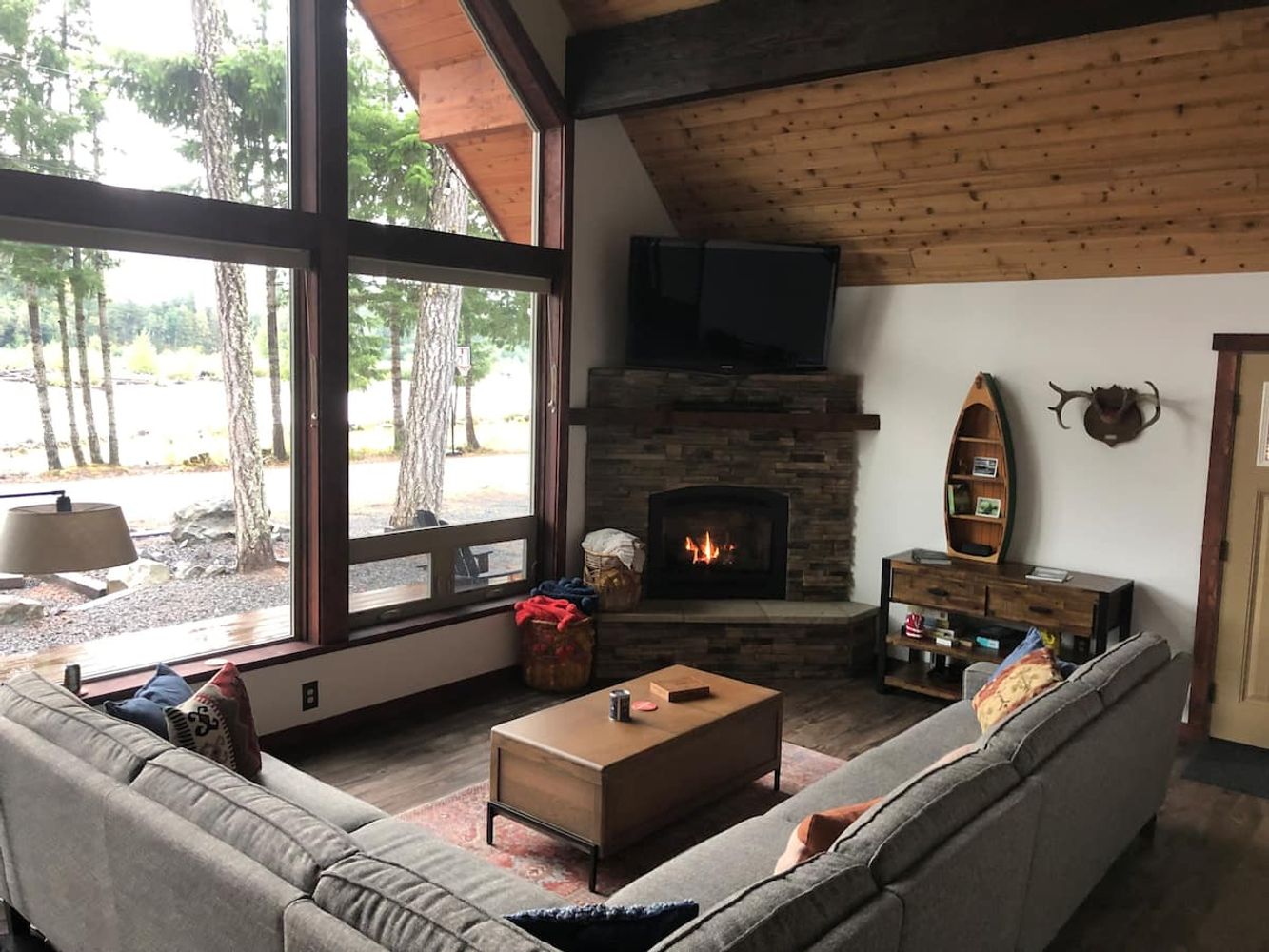 Cozy living room at the Place on the River!
This cabin is situated in the valley next to the mountains and perfect for small groups of adventurers. It also has such a cool story because it was built with hand milled trees from the very lot it sits on! The property sits on 1.5 acres and even has a private trail leading to the Nisqually River and a hot tub on site. While the cabin is quaint and cozy, one bedroom is in a loft with a ladder and may not be suitable for young children.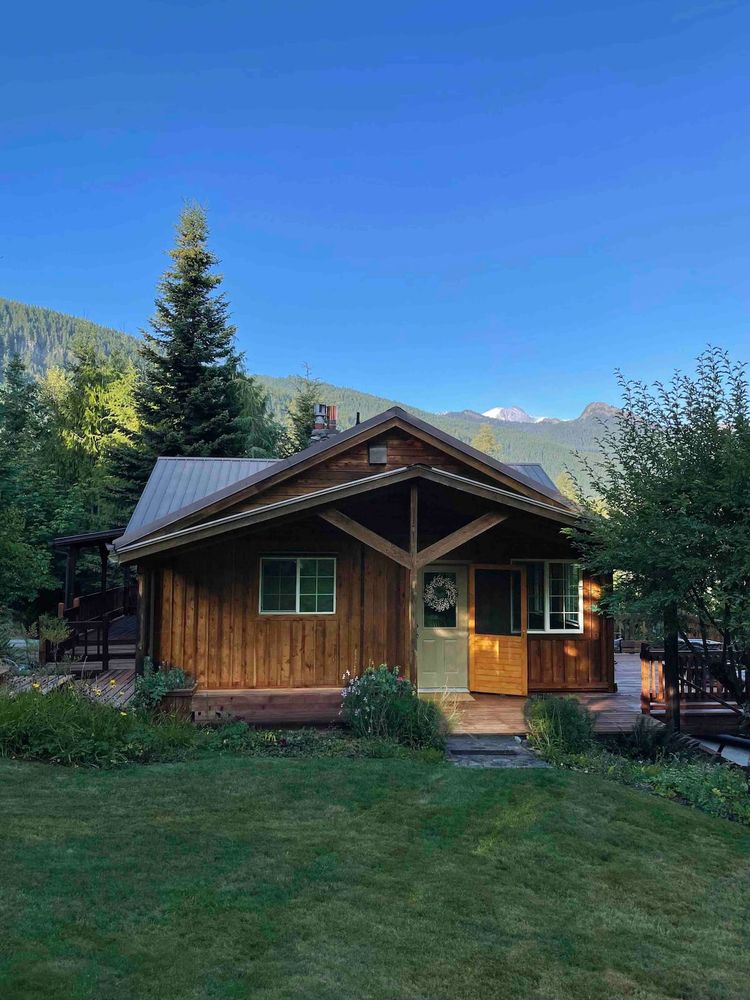 This has to be one of the cutest cabins I've ever seen!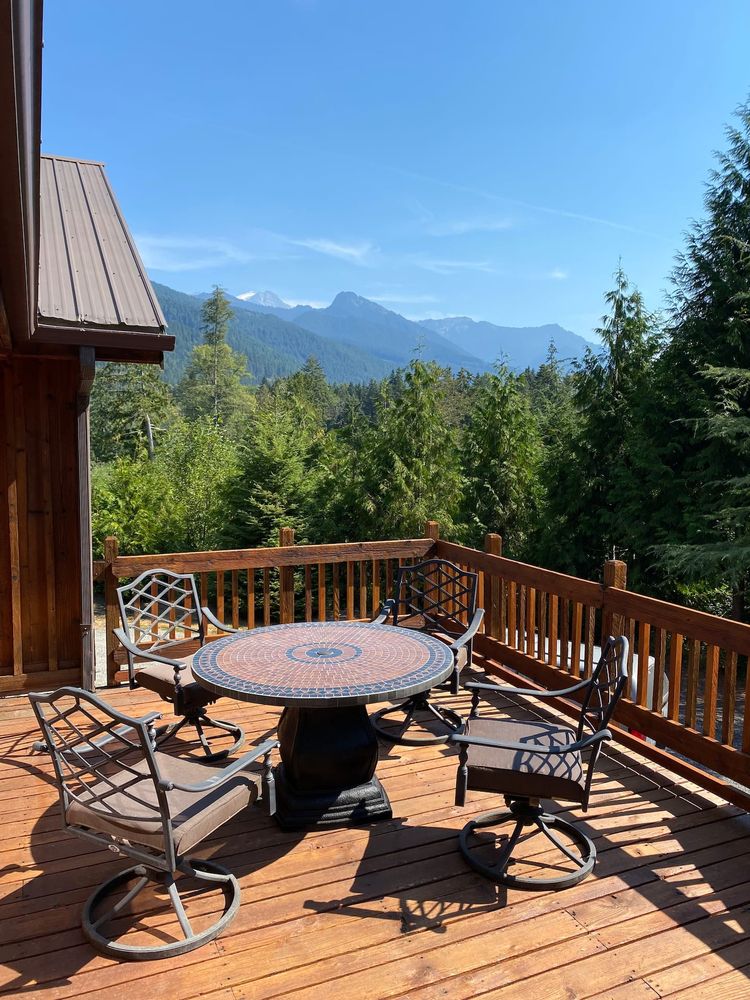 You can really Experience Mt. Rainier with this view!
Built in the 1960s, this log cabin is authentic as they come! The owner's purchased it only a year ago and have done a wonderful job restoring it to its original beauty. There's even a family-friendly waterfall within just a few steps away! They are gearing up to launch their bookings on Airbnb, so keep an eye on their Instagram for updates.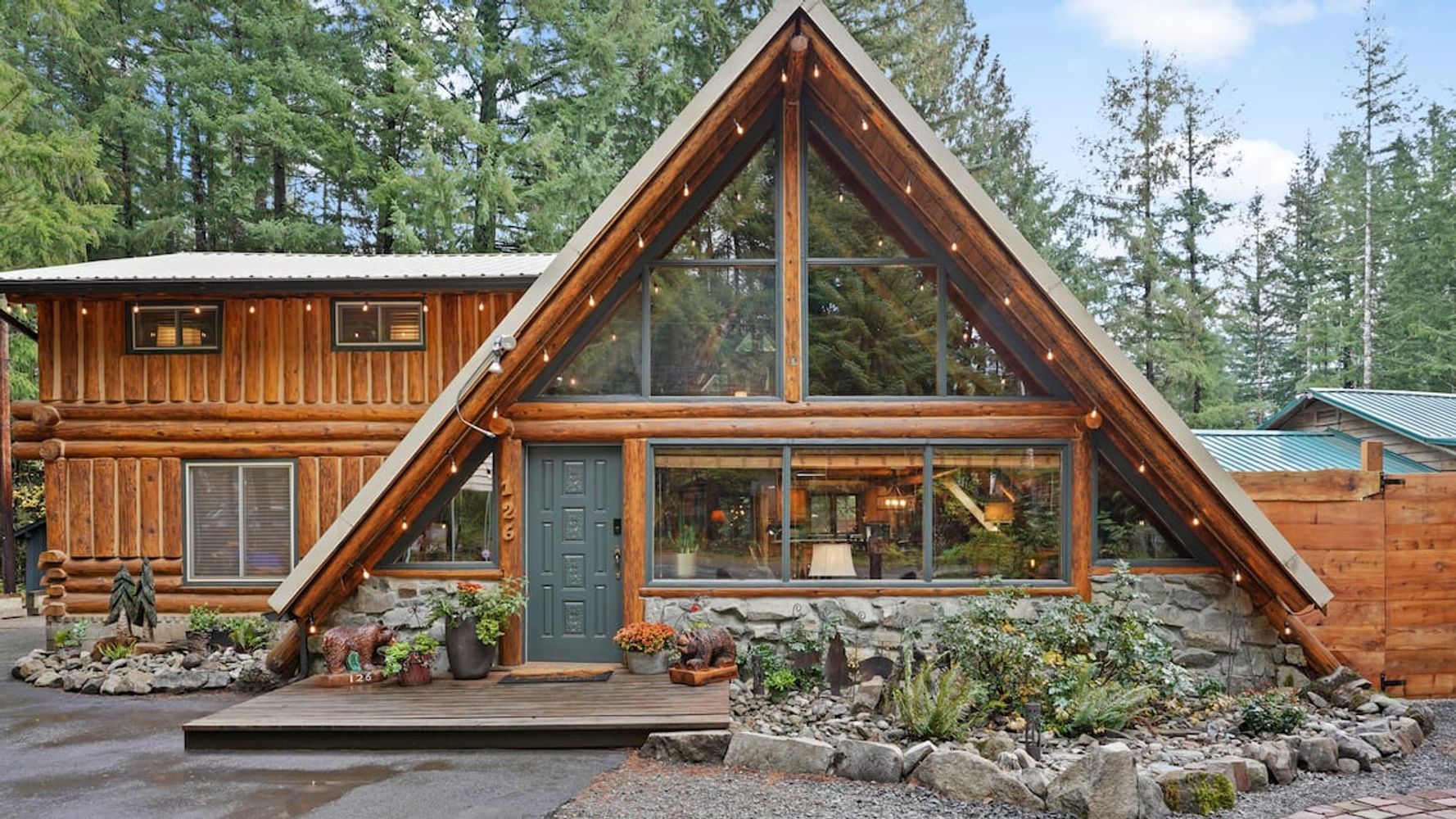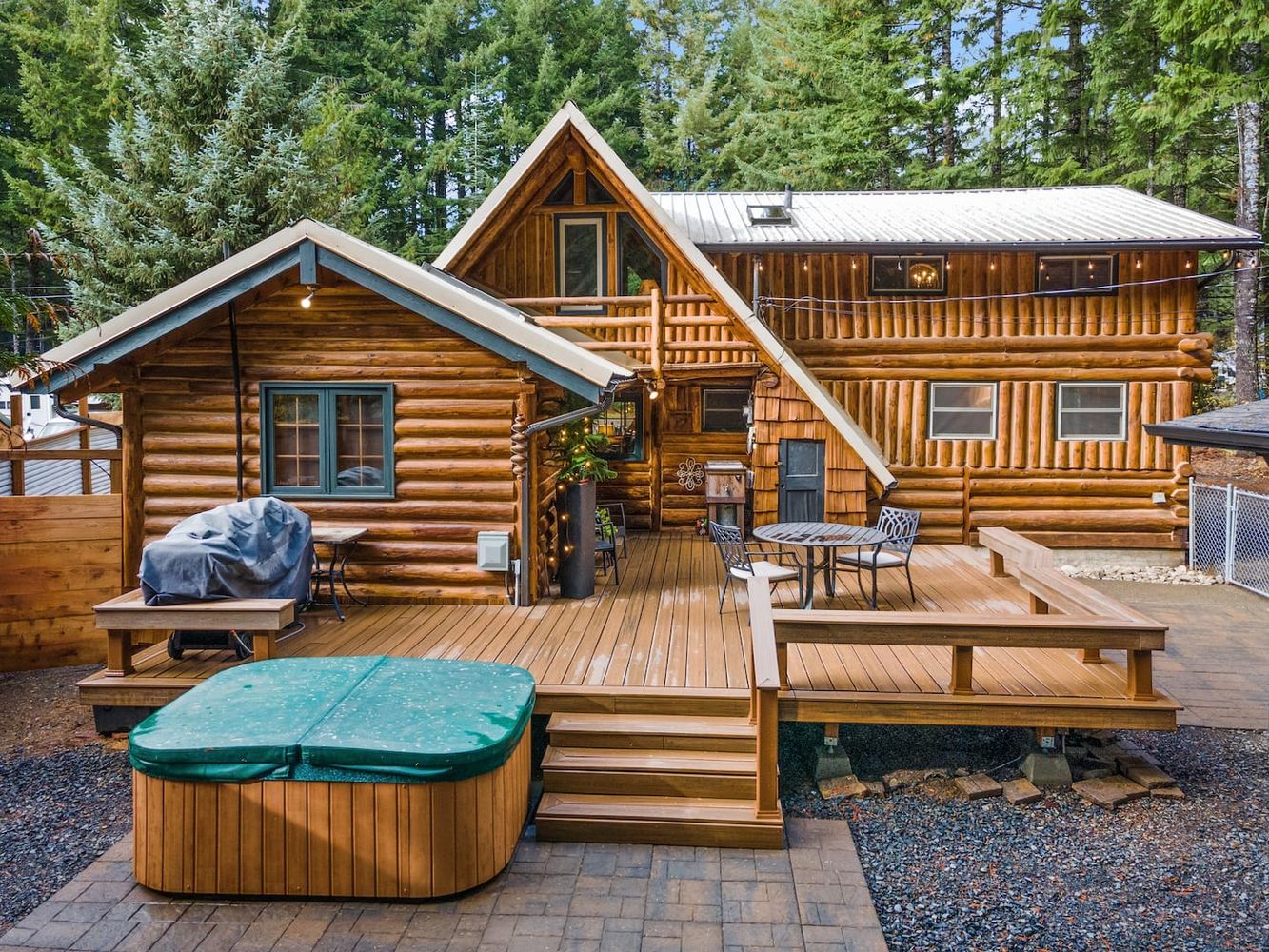 This hot tub is my happy place.
Elk Woods Bungalow
Located in Packwood, this cabin is ready to stay in at any season! Enjoy the nearby hikes in the summer or take advantage of the wood-burning stove in the winter, Elk Woods is amazing. They even use all biodegradable cleaning products and are strong supporters of local businesses. Book through their Instagram, but keep in mind that they are popular! Elk Woods is fully booked every weekend through March!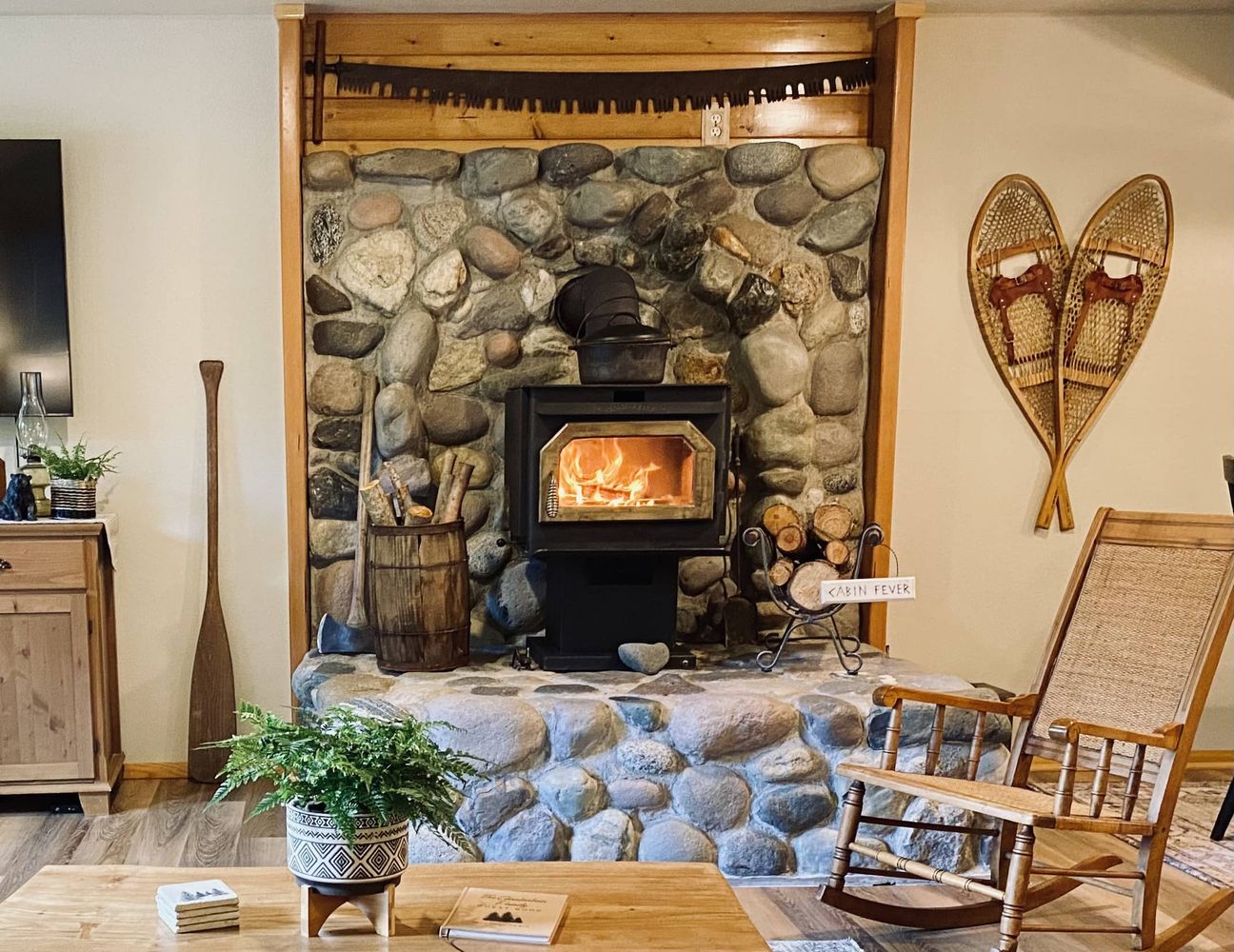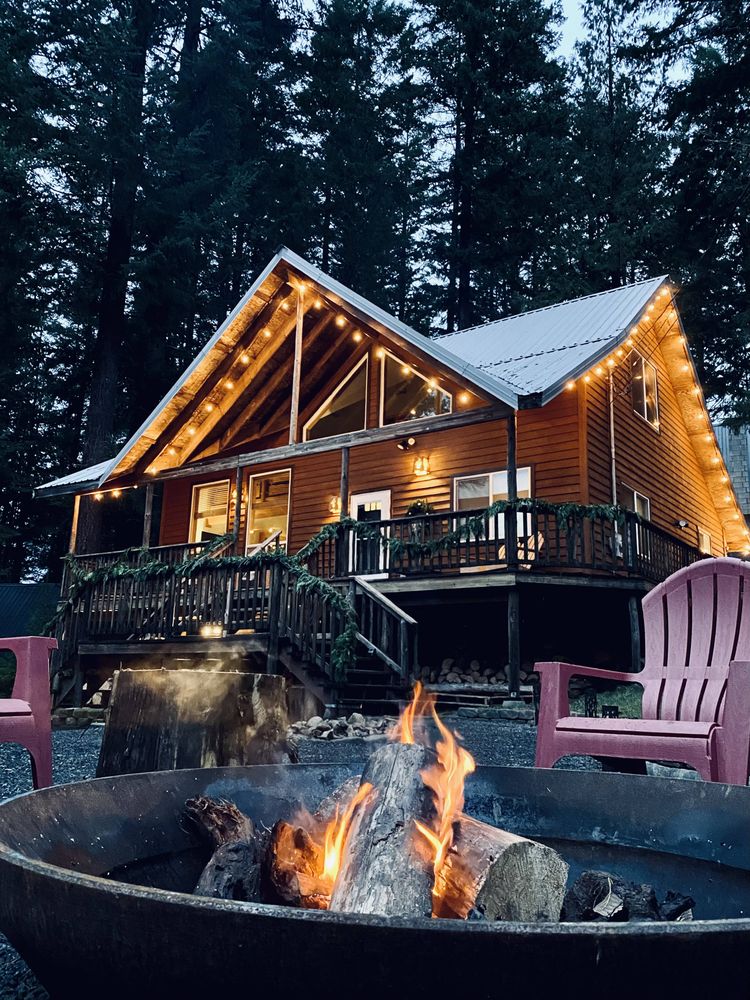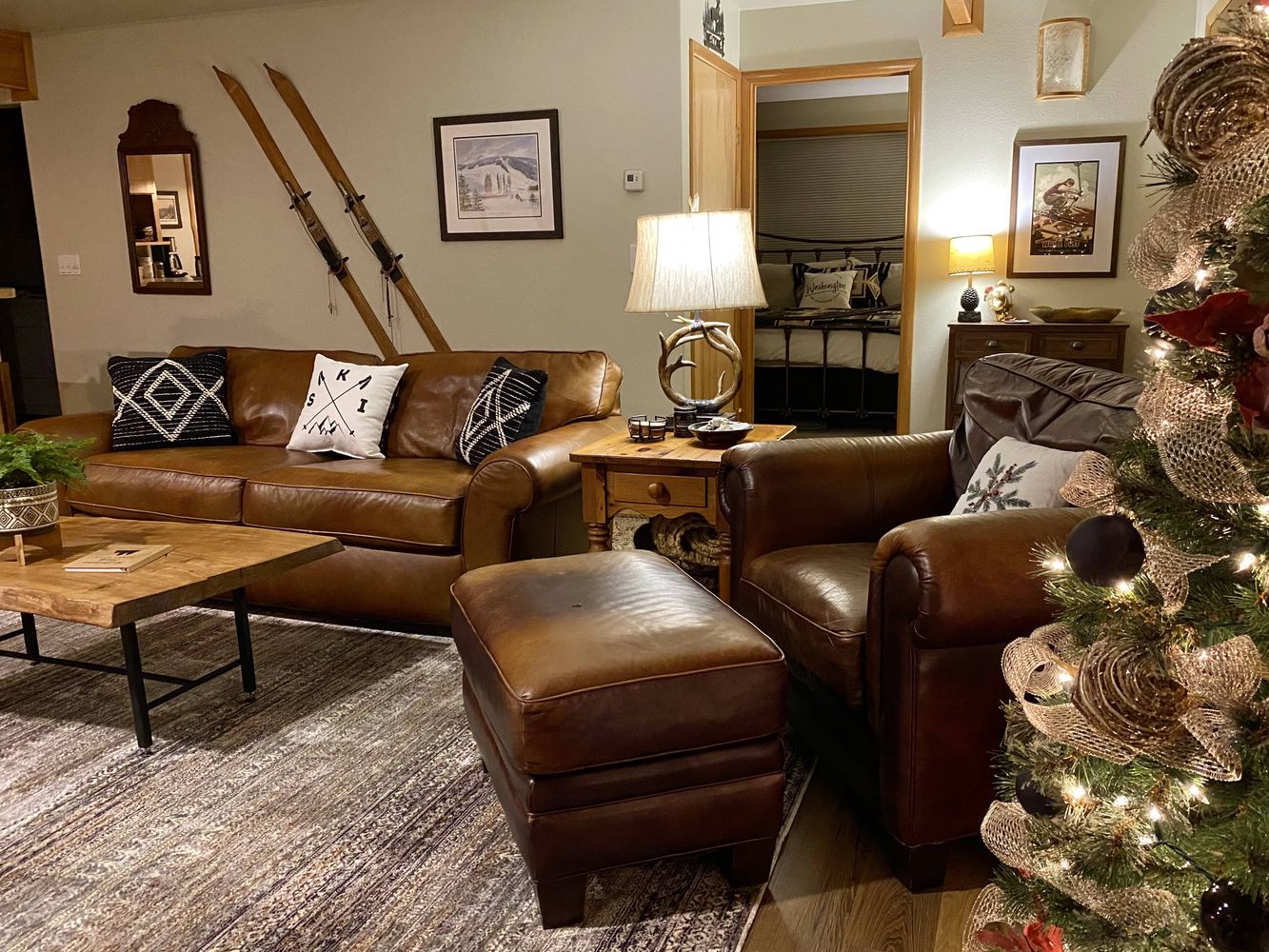 Tilted timbers is within five miles of the year-round entrance to MRNP, making it great to stay at for any season. The property features some grassy spaces with a fire pit and a hot tub on the porch that overlooks the peaceful nature surrounding it. Tilted Timbers does not allow pets to stay at the cabin, so it is best for those not looking to bring their furry friends.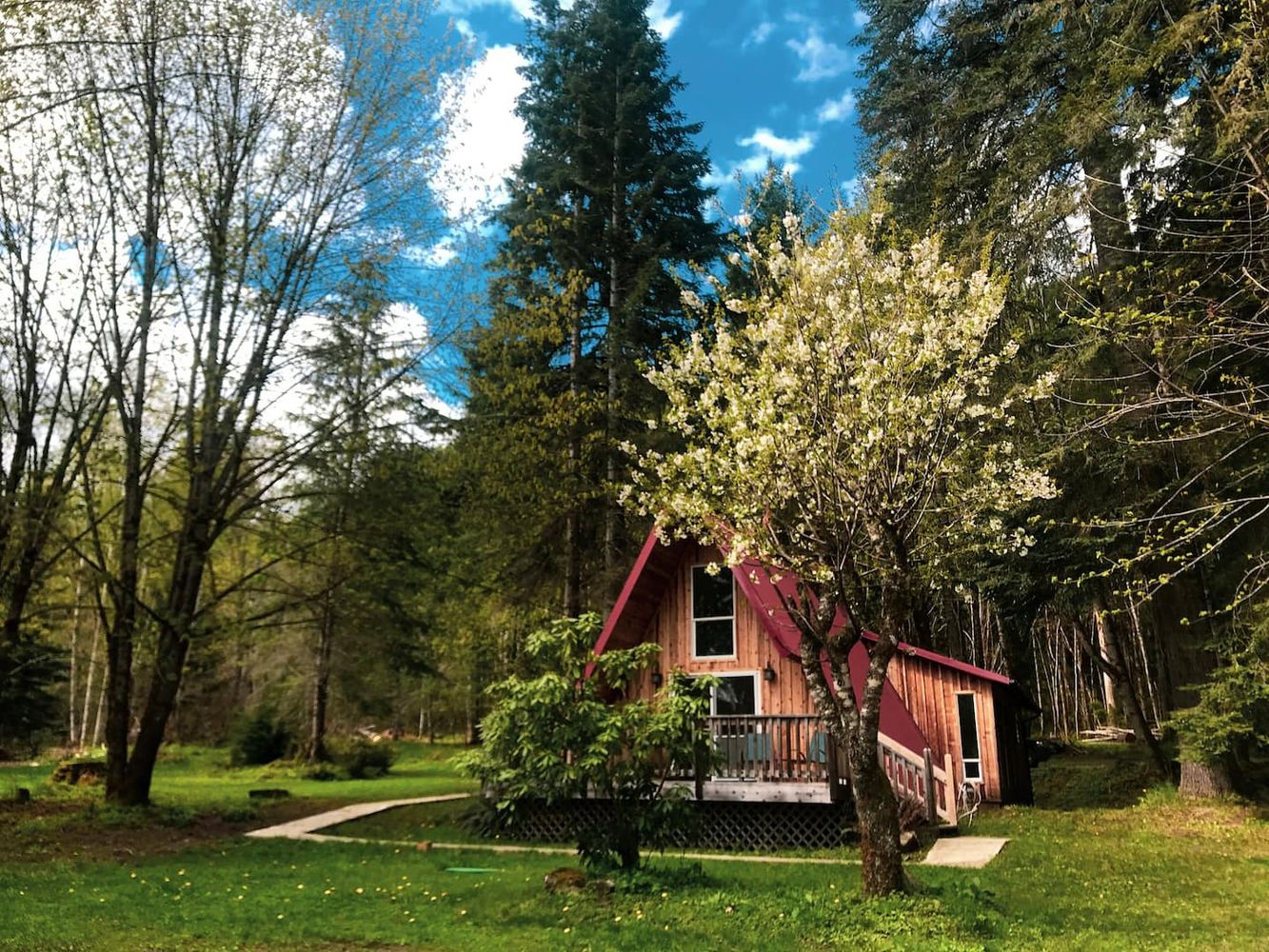 This is straight out of a story book!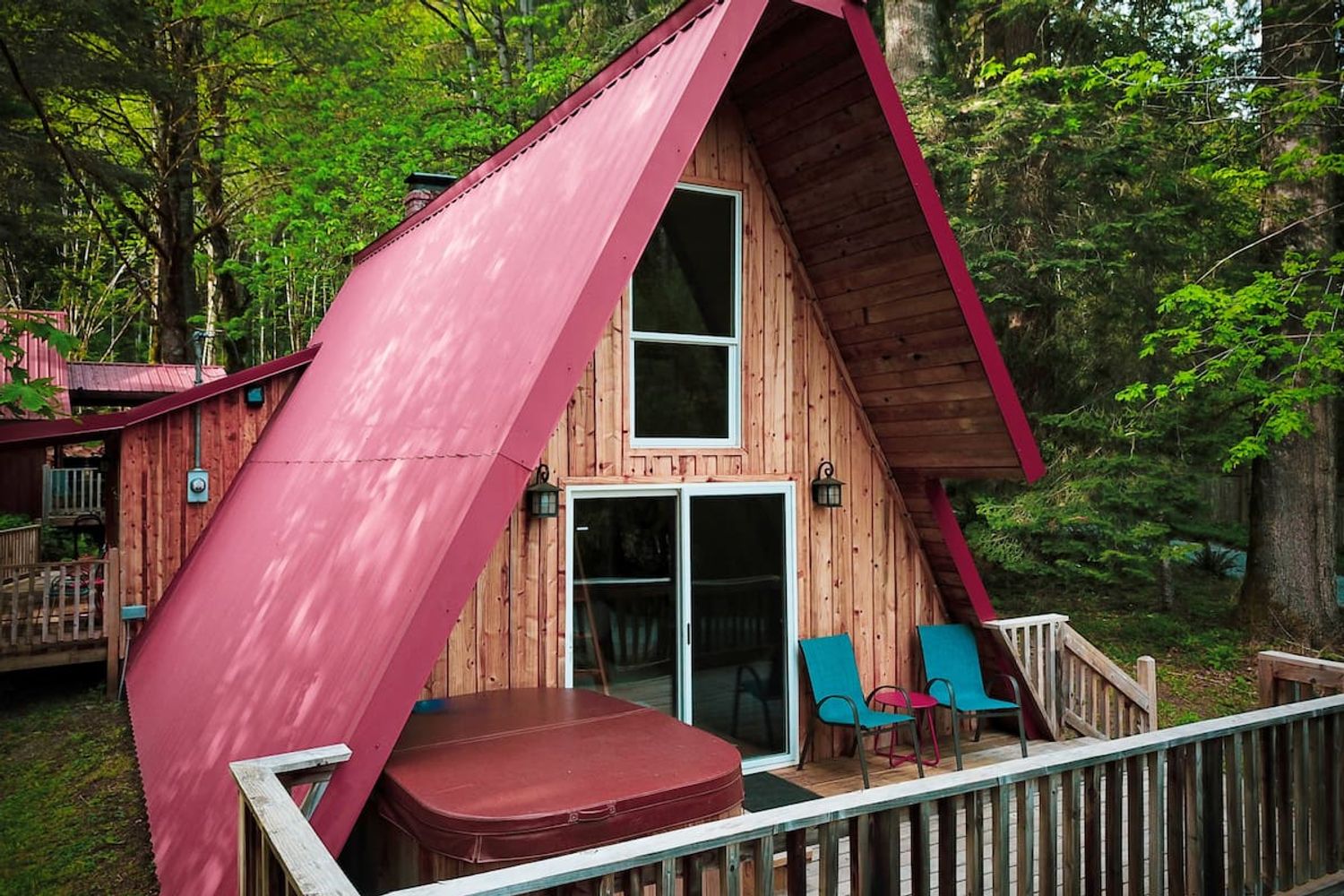 Rainier Holiday House is the perfect getaway for nature lovers, adventurers, and those seeking relaxation. The house features a variety of amenities, including a cedar sauna, cozy bedrooms, a fully equipped kitchen, and a full bathroom with a tub. Guests can enjoy easy access to local trails, fishing, skiing, and everything the Gifford Pinchot has to offer. With well-equipped indoor and outdoor spaces, including a fire pit, gas grill, and fast WiFi, the Rainier Holiday House provides a comfortable and welcoming retreat. Whether you're looking for a romantic getaway or a family vacation, the Rainier Holiday House is the perfect place to stay.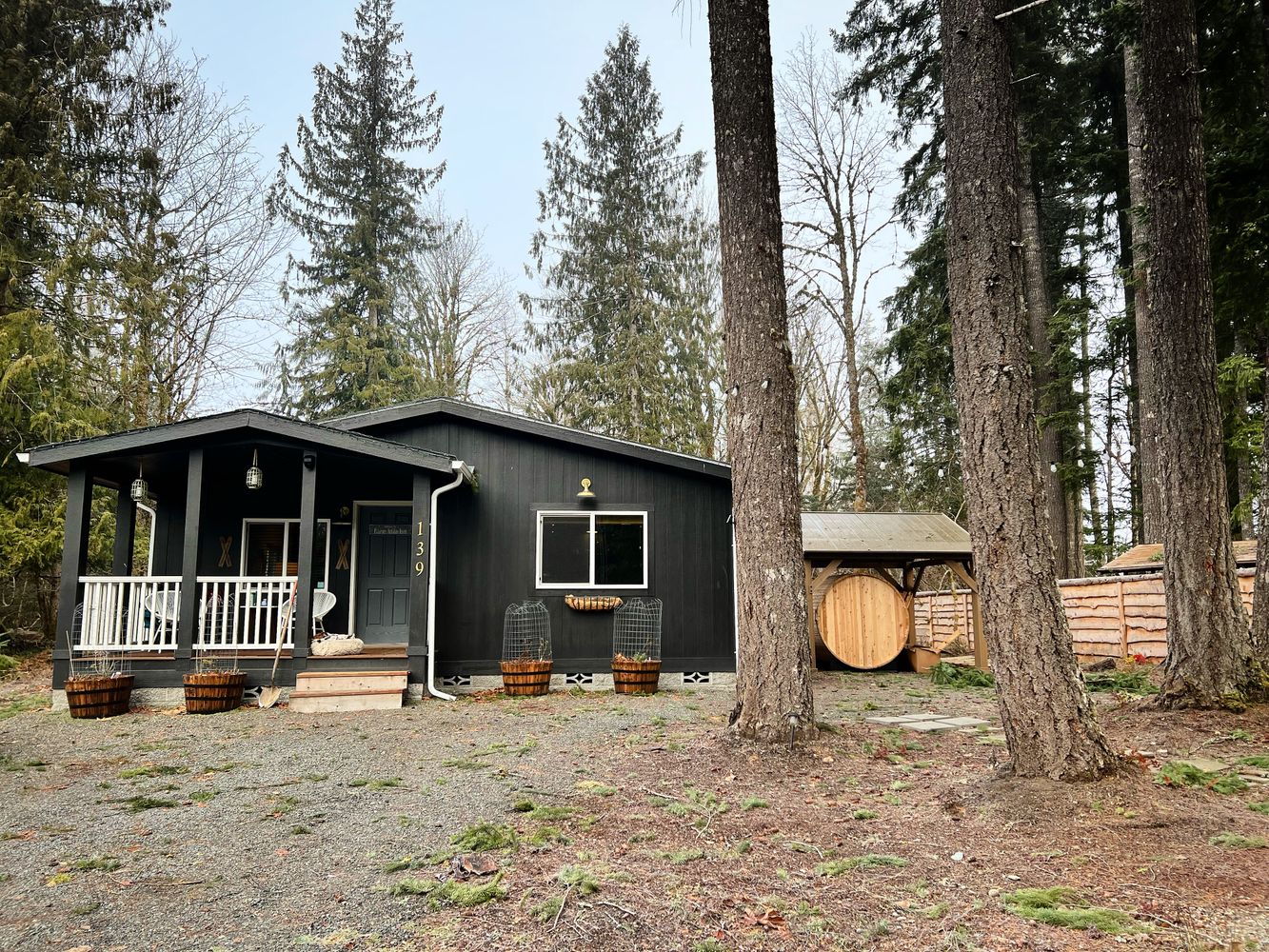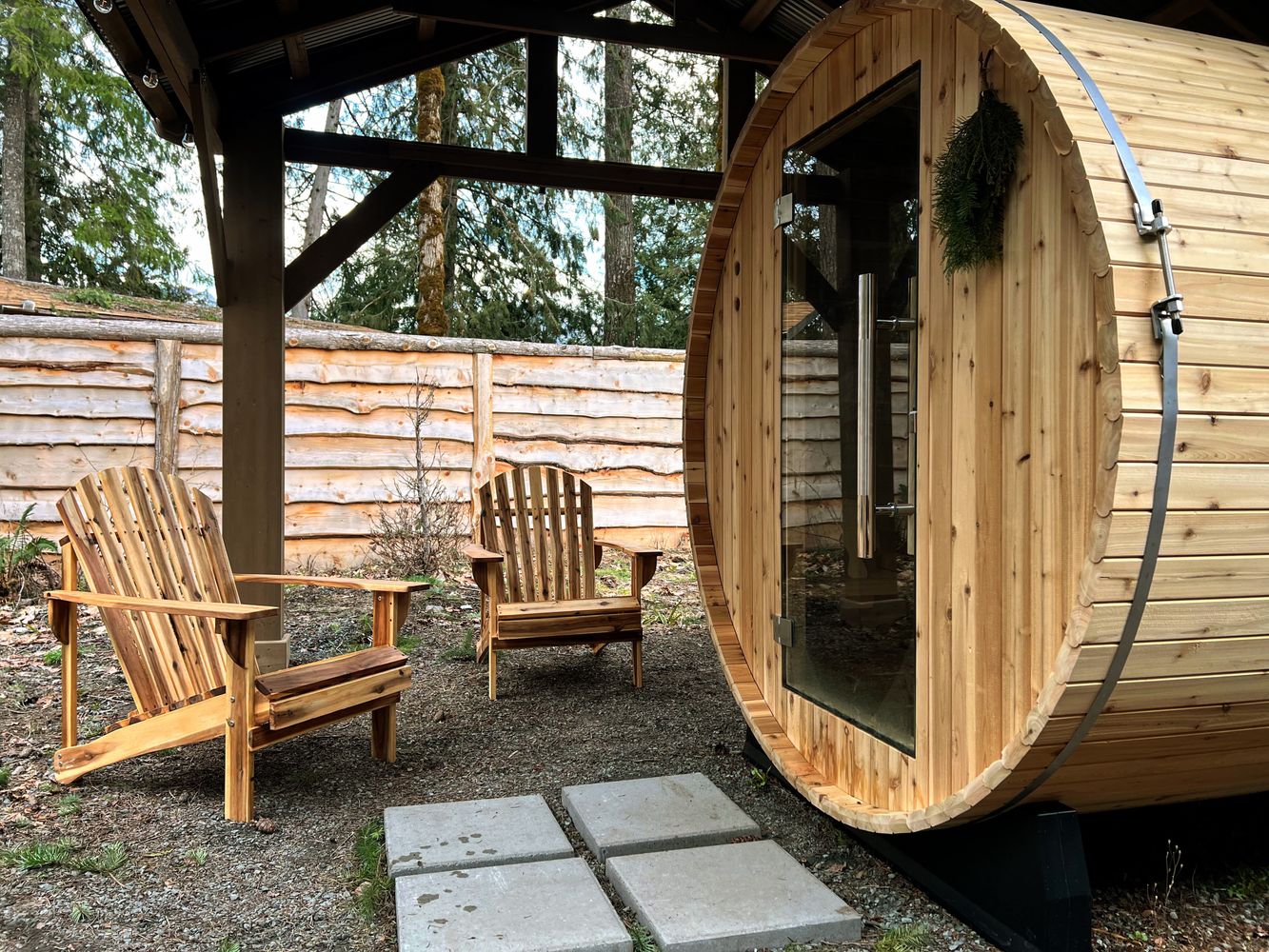 Now that you have had your fill of wanderlust, here's some Rainier Watch recommended goods that are perfect for cabin weather:
Headwear - Hats and beanies and more!
Beanies - Keep that dome warm with some high quality, cabin tested beanies!
RW Neck Gaiter - Specifically great is this technical, top-notch neck gaiter. Folks love using it while skiing or on summer hikes. It's the perfect all season addition to your gear closet.
I'd also like to give an honorable mention to Staheekum! I have a pair of these locally made slippers and no cabin trip would be compete without them!
Now, get out there and make some memories!